Arts4All
Arts4All has a long-standing 17 year history of artistic excellence and inclusion in
Davenport West. Many hundreds of people of all ages and backgrounds , be they
residents, artists, volunteers and partner staff, have participated in large scale,
multi-year projects that bring local narratives to life in our neighbourhood's spaces, and
beyond. We strive to support our neighbourhood's presence in Toronto's larger cultural
landscape through ensuring access to the arts for the incredible, beautiful and often
overlooked people who live here.
Malika Daya (she/her) is an emerging, multi-disciplinary, artist and community engaged arts
facilitator. Malika is a director, actor, writer and is trained in Northern Indian classical, Kathak
dancing. Most recently, she was working abroad in Malawi with the Art and Global Health Centre
Africa and is passionate about using participatory arts as a vehicle for community development.
As a third generation, South Asian-East African – Canadian, Malika is fascinated by stories of
the diaspora and how living between cultures produces its own sets of challenges and
narratives. In her undergraduate pursuits at the University of Toronto Scarborough, Malika is
studying International Development, Sociocultural Anthropology, and Theatre and Performance.
She is drawn to the intersections of these disciplines, inspired by her experiences working on
various productions like 'We are Proud to Present' with Mumbi Tindyebwa Otu, 'The Shell' with
Nikki Shaffeeullah, and directing 'This is War' by Hannah Moscovitch.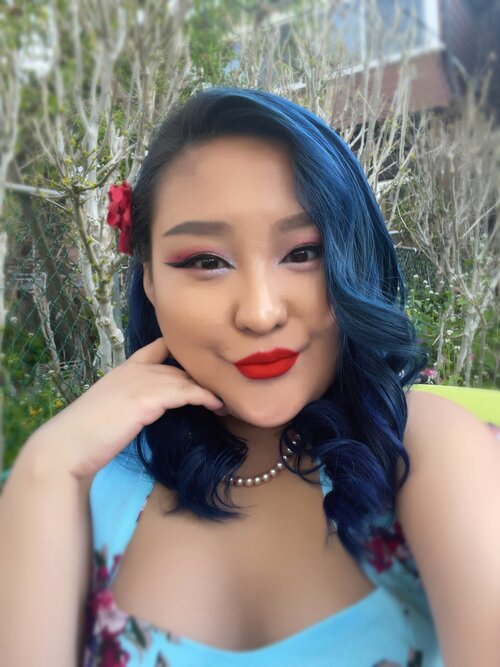 Tuyaara Fedorova is a new Canadian and emerging arts manager with a diploma in Business
Administration – Financial Planning from Seneca College, and a desire to work in the arts and
non-profit sector. She has been working with Arts4All for the past year as a community arts
facilitator and financial coordinator. She is receiving mentorship in non-profit management specifically through Arts4All and offshoot organizations and has an independent arts practice in painting and jewelry making.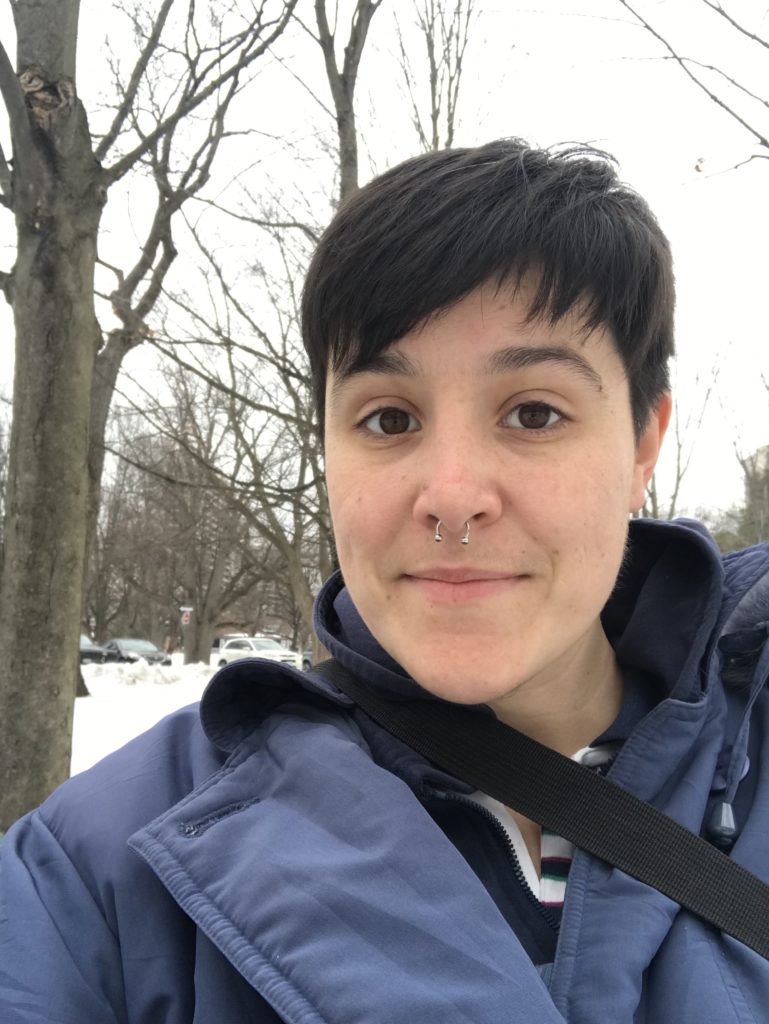 Ximena Huizi is a Venezuelan, queer, non-binary, theatre/perfomance artist and creator. Their work intersects translation, image and the body. They have trained internationally in South America and Europe with the support of the CCA. And have presented work as a director in The Rhubarb Festival, Summerworks Festival and The Riser Project. Ximena is committed to developing and participating in work that is intersectionaly feminist, anti-opresive and in the service of our water, our mother earth and the recovery of the wisdom of her original caretakers across turtle island
Karis Jones-Pard (Moakpi'ksiiakkii) is a native 2-spirit/genderfluid queer artist based in Toronto.
They desire to create and offer art making as a form of self care, boundaryless expression and
want to dismantle the idea that art must be perfect/profitable. They are currently leading a project called The Joy Project. This project explores themes and asks; What does joy mean to you? What brings you joy? They are a graduate of Humber College Theatre Production and have been working in Theatre and Community Arts for almost a decade. They have worked/are currently working with companies like; Jumblies Theatre, Community Arts Guild, Arts4All, ReDefine Arts, Theatre Direct, etc. Artistically fluid just like their gender, they do many different forms of art that include; puppetry, stilting, jewelry making and poetry but they specialize in drawing, painting and fabric arts.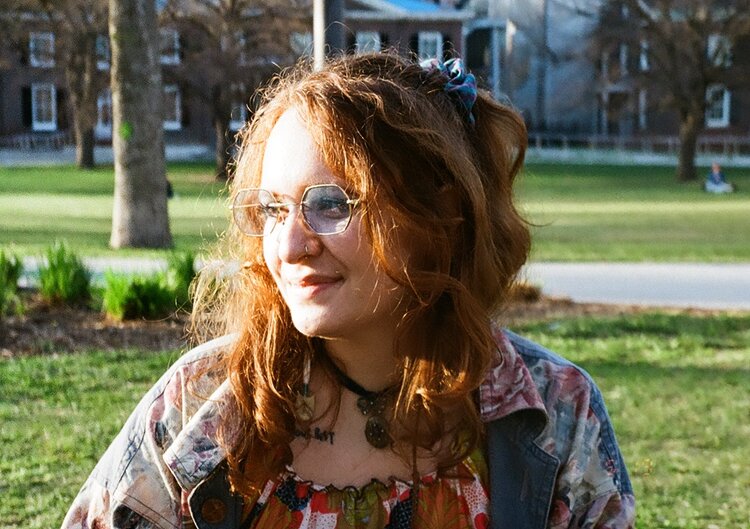 Liza Konovalov is a multi-disciplinary artist with a primary focus on sculpture, ceramics, and
collage. She graduated from OCADU in the Sculpture and Installation program in 2020. Her
artistic practice is centred around maximalism, nostalgia, and the sentimentality we ascribe to
the objects we keep in our lives. She is a facilitator at Arts4All.
Pesch Nepoose is a Cree multidisciplinary artist from Edmonton, Alberta, currently residing in
Toronto, Ontario. She graduated her fourth and final year at the Centre for Indigenous Theatre
in May 2019. Now a full time actor, she has been a part of many projects including the film By
These Presents with Ange Loft, also acting in Hunger which premiered at the ImagiNative Film
Festival 2019. Pesch enjoys working with Clay and Paper Theatre, Jumblies Theatre, the
Encounters Collective and many others. While attending C.I.T. She formed a collective with her
two classmates and created the play S.O.S. Saving Our Sovereignty, which was part of the
Paprika Festival and Weesgachuk Begins to Dance Festival. Pesch has been writing her own
one woman show as well.
Hello, my name is Monica Olvera. I'm a Queer Toronto-based Art Producer and
Project Manager, originally from Mexico. I collaborate with Arts4All as a Graphic Designer and
Community Arts Facilitator. Their art practice includes: visual arts (drawing & painting),writing,
film editing and photography.
Tijana Spasic is a Toronto based community engaged creator, director and installation artist.
She is a graduate of the Claude Watson Arts Program and trained in theatre at York University.
She is the new Artistic Director of Arts4All, a role which she transitioned into during the
pandemic. She has launched a series of digital, mailed and phone programming, working in
close collaboration with a team of 5 other emerging immigrant artists. The programs span
different artistic disciplines (drama, collage, embroidery & fabric arts, creative writing, music,
dance) and are part of artistic research into Change of Address themes, which is the new
multi-year project Arts4All is currently engaged in. The team is also working on two installations
that will share information relevant to the community and artistic kits throughout the
neighbourhood, as well as an ongoing tech equity and wellness program that connects
marginalized participants to the technology and supports they need to participate online.
She has also been working with Jumblies Theatre and Offshoot partners (in part thanks to a
Metcalf Foundation Internship) for the last three years, assisting on many large scale
productions, seeing and partaking in community work in many stages of creation, from many
different cultural perspectives and parts of the country.

Prior to her work at Jumblies she led several community engaged projects through her work with
Mammalian Diving Reflex (including Happy Eatium: a multi neighbourhood project on food
scarcity with 20 youth & Survival Guide to the City- a city exploration project with newcomers.)
the Milkweed Collective, and independently. She has worked in site-specific venues, parks,
schools, libraries and traditional venues (including: the Edinburgh Fringe, Powerplant Gallery,
Nuit Blanche and Luminato Festival.) She has worked with community members of all ages,
running several youth leadership projects, intergenerational programming, and projects tailored
to seniors. Through her work she has gained skills incorporating audio pieces, film, choral
performance, puppetry, ceramics, fabric arts and disability arts into community projects. Her
projects explore the city's economic disparity, the suburban-downtown divide and questions of
belonging, home and memory. She is an immigrant artist who speaks Serbian and Russian.