Associate Artists & Creative Collaborators
Shira Leuchter (she/her) | Associate Artist
When I was a child, I dreamed of being…a part-time orthodontist/part-time costume designer.
Shira is an actor and theatre creator. Her work examines how larger cultural narratives shape our personal stories. Much of her work includes performance, live art and installation. Her work is rooted in meaningful consideration of the role of the audience and the nature of their relationship to the performance.

Shira's live art performance, Lost Together, was awarded the 2018 SummerWorks Festival Production Prize and was presented as part of the 2019 Progress Festival. It will be presented as part of Nightwood Theatre's season in 2021.

Shira has received commissions from organizations like the Gardiner Museum and Harbourfront Centre. Shira's work has been the subject of recent scholarly articles, has been taught on the curriculum at University of Toronto and University of Windsor, and she's been a guest lecturer at the University of Toronto, Ryerson University and Concordia University. She's a graduate of the National Theatre School of Canada (Acting) and the University of Guelph.

Shira runs UnSpun Theatre with Chris Hanratty, with whom she parents two cool kids.
---
Djennie Laguerre (she/her) | Associate Artist
When I was a child, I dreamed of being…a great painter.
Djennie Laguerre is an Actress, Author and Storyteller and a graduate of the Stella Adler Acting Conservatory (New York) and the University of Ottawa (BAC in Art; Theatre and Literature).

She has been acclaimed as the performer and author) of Manman la mer at Théâtre la Catapulte and Espoir/Espwa (which she authored with Carline Zamar, Edwige Jean-Pierre) Le malade imaginaire, *LES ZINSPIRÉS and LES ZINSPIRÉS 3D at, Seventeen (Anonymous) Women at the Infintheatre and REZ SISTERS at the Factory Theatre. She is the author and performer of Rendez-Vous with Home/Lakay at the SummerWorks Festival, 2008 and at the Théâtre français de Toronto, 2010 ALSO presented in several storytelling festivals such as Les Contes nomades (NAC) and Le Festival du loup de Lafontaine. She is proud of the ambitious tour of both English and French versions of Rendez-vous with Home/ Lakay with the iconic Black Theatre Workshop (Montreal, February 2018 and November 2019) and the English version with Roseneath Theatre in Toronto 2020!
Film/TV: Flashpoint, Degrassi Junior High and Mrs Happiness /Madame Bonheur, to MiniTFO.
She received the Spotlight Award at the SummerWorks Festival in 2008 for Rendez-Vous with Home. She is a Dora Awards nominee for "Outstanding Performance – Individual" Rendez-Vous with Home 2020, for "Outstanding Performance – Individual" for Les Zinspirés and "Outstanding Performance – Ensemble". Also nomination for "Best Actress" at the METAs Awards 2018 for Rendez-vous Home/ Lakay. Your children know her as the storyteller and dancer Madame Bonheur at MiniTFO/CBC.
---
Treasa Levasseur (she/her) | Associate Artist
When I was a child, I dreamed of being…a Broadway star and/or a kindergarten teacher.
Treasa Levasseur is a Juno-nominated singer-songwriter and holds a BFA in Theatre (Acting) from Ryerson University. 

She is a passionate educator, and during the pandemic has coordinated and delivered online arts programming for the AGH, Theatre Aquarius, Theatre Direct, the Boys and Girls Club of Hamilton and HMC's An Instrument for Every Child program (AIFEC).   

In addition to her educational work, she is a regular columnist on CBC's The Next Chapter, the Program and Community Engagement Manager for Folk Alliance International, and in 2021 composed and co-produced the immersive choral audio piece Without Mass for the Frost Bites Festival.
---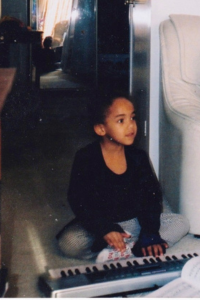 Sid Malcolm (she/her) | Production Coordinator
When I was a child, I dreamed of being…able to perform on a big stage!
Sid Malcolm is a recent graduate from Brock University, Hons. BA in Dramatic Arts with a minor in Music. Sid has a passion for the world of production and performance with a new found desire to explore storytelling.

She has been able to pursue production as the Assistant Technical Director to three consecutive shows at Brock. Most recently, she had the pleasure of directing, devising, and performing in anthology piece Ouroboros (2021).

Sid has a passion for sharing truths and combining stories of injustice with theatre. She strives to create art which questions the practices that are considered normal in day to day life.
---
Keira Forde (she/they) | Associate Producer
When I was a child, I dreamed of being…a fashion-designing politician.
Keira Marie Forde is a multi-disciplinary physical performer and creator. Keira is passionate about creating cross-cultural physical work that explores her connection with the Caribbean Canadian community.  As an artist existing in community settings she focuses on making connections with youth through developing their personal physical literacy by way of summer camps, childcare, and teaching/coaching. 

Keira has a passion for creation and during the recent shut down due to Covid-19 she had the opportunity to create, produce, and perform two shows: Doomsday Vs Dreamday and the Deepdrawer for Theatre Direct's "Spark the Future" Forward March Festival and No More News for Nancy With MAAP and Chelsea Woolley.  Her recent performance credits include Wellness Wednesdays with Peel Regional School Board; Relay with Expect Theatres Beats and Intentions; Infinity Machine with Sharron Moore at Humber Theatre; Unleashed with George Brown Dance, and The North American Film Awards with Diva Diverse.

Keira is a recent graduate of the mentorship program with the Coco Collective (@cococollectiveto) Window of Opportunity Program, a graduate of Humber's Theatre Performance Program, and the George Brown Dance Performance Preparation Program.
---
Jackson Nair | Associate Producer
When I was a child, I dreamed of being…an actor! (I kid you not folks!)
Jackson Nair is a mixed-race arts educator and theatremaker working in Toronto's performing arts industry both onstage and behind the scenes, with a particular interest in multicultural theatre, digital theatre, and Theatre for Young Audiences. He holds a B.A. in Drama from Bishop's University alongside a Minor in Greek and Roman Civilizations.

Jackson has been enamoured with the performing arts ever since he received thunderous applause for doing animal noise impressions in his second grade talent show, and hasn't looked back since. As a director, Jackson has worked with the Alumnae Theatre Company, InspiraTO Festival, and Halifax's The Villains Theatre. His one person show Ganapati Stories premiered as part of the Toronto Fringe Festival's KidsFest 2021.

Jackson loves a good story, whether he is the one hearing or telling it, and thinks it's pretty wizard that he has made his career doing just that.