Give 'em Hell
Presented by Theatre Direct
A 4th Line Theatre Special Event
Created by Prairie Fire, Please
Co-Produced by Theatre Direct and Prairie Fire, Please
in association with Peterborough Museum and Archives
Image Credit: Khira Wieting
Written by Madeleine Brown
Directed and Dramaturged by Aaron Jan
Previews/School Shows:
Tuesday, September 12 to Thursday, September 14, 2023
Opening Night:
Friday, September 15, 2023
Public Shows:
Friday, September 15, 2023 to Saturday, September 23, 2023
Venue:
Surprise Location TBA, Peterborough, Ontario
Inspired by real-life student activism, Give 'em Hell is a new play that retells the final school year leading up to the 2012 closure of Peterborough Collegiate and Vocational School (PCVS).

Written by Peterborough-born, award-winning playwright Madeleine Brown and featuring a cast of eight local teenagers, Give 'em Hell explores the power of youth activism, the perils of self-discovery and what it costs to stand up for a cause.

The play will be staged in a surprise location in downtown Peterborough and accompanied by an exhibition of archival materials from this monumental turning point in the school's history.
"Madeleine Brown and Aaron Jan are masters of tone and concept, injecting sincerity and emotional resonance into their slightly absurdist, stylized productions."
–Istvan Reviews
For school bookings, please e-mail Madeleine at madeleine@theatredirect.ca
Tickets are available online in advance below or at the door on the day of the performance by cash.
Additional details, and full cast and creative team to be announced.

Prairie Fire, Please acknowledges the support of the Canada Council for the Arts.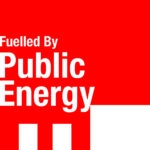 Fuelled by Public Energy