Finding Home: A Salmon Journey up the Humber River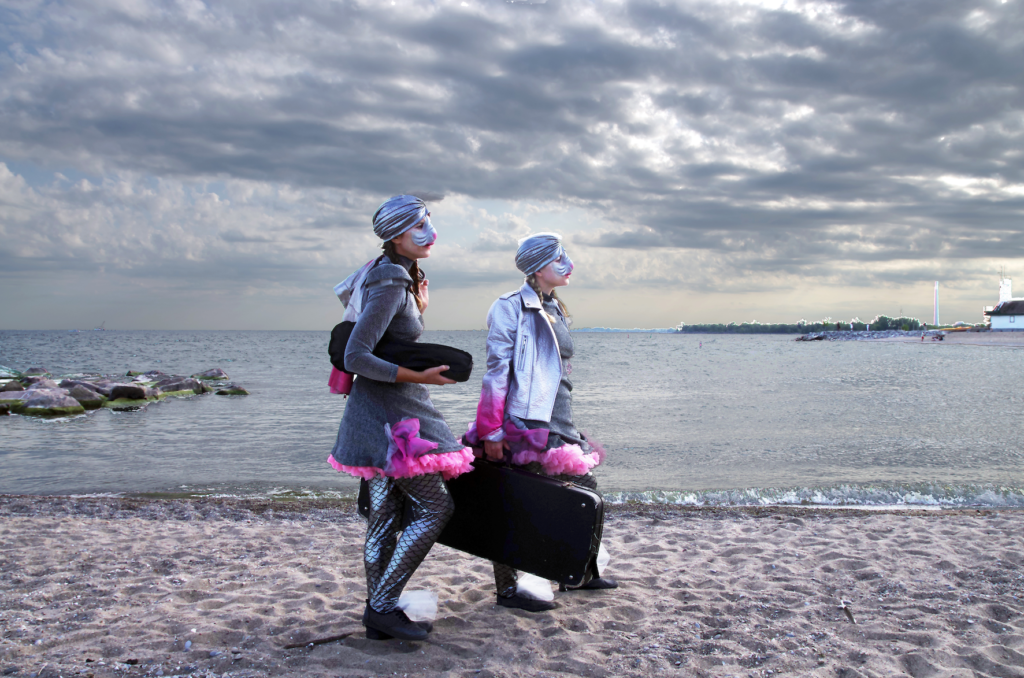 Created by Morgan Brie Johnson and Alexandra Simpson
A Co-Production between Animacy Theatre Collective and Theatre Direct, presented by Theatre Direct
School Performances:
Thursday October 6 and Friday October 7, 2022
Wednesday October 12 to Friday October 14*, 2022

Public Performances:
Friday October 7 to Monday October 10, 2022
Saturday October 15* and Sunday October 16, 2022
10am | 1pm Daily
Running Time: 40 minutes + Q&A
Ages: 5 to 10
King's Mill Park North
(21 Old Mill Road, Toronto)
Cost: Free/Donations Welcome
*Friday October 14 and Saturday October 15 performances include ASL Interpretation.
For more information about ASL performances, click here or on the vlog below.
A hilarious and heartfelt outdoor play exploring friendship, growing up and the annual salmon run featuring puppetry, clown and live music.

Finding Home is the story of two best friends who also happen to be salmon from Lake Ontario. Beagle and Sojo do everything together, as true best friends always do. Until one day Beagle starts to change and gets the urge to set off on an adventure upstream–whether Sojo wants to come or not.

It's tough to swim against the current of the Humber River and the two face all kinds of challenges together: fishermen, pollution, rocks, rapids and more. But along the way they learn what it means to be a real friend, how beautiful it is to complete your life cycle, and why salmon really are the rockstars of the fish world!
***
Join guides from First Story Toronto for a Lunch and Learn to discover the Indigenous history of the area. Stick around after the 10am performance or come early before the 1pm one–either way make a whole day out of your time at Finding Home!

The Lunch and Learn, created especially for young audiences, is from 11:45am to 12:30pm between performances at King's Mill Park North on-site at the Finding Home performance area. The talk will be from 11:45am to 12:15pm followed by a fifteen-minute Q&A.

Attendees are invited to bring their lunch and something to sit on during the session. Pre-register in advance when reserving tickets through the Finding Home Eventbrite linked above.

First Story Toronto is an Indigenous-led community-based organization that researches and shares Toronto's Indigenous presence through popular education initiatives.
***
The audience area for the show is on grass and as a result may not be accessible to audience members with limited mobility, or those using mobility aids. Audiences are seated on the ground for the duration of the show, so please bring blankets or lawn chairs. Limited chairs will be available.
***
In the case of severe weather (i.e., thunderstorm) or a member of the performance tests positive for COVID-19, the performance will be cancelled 90 minutes prior to show time and the ticket holder will be notified by e-mail. No refunds will be issued, but tickets may be exchanged for another performance by e-mailing madeleine@theatredirect.ca.
Finding Home: A Salmon Journey up the Humber River
Cast and Creative Team
Creators and Performers: Alexandra Simpson and Morgan Brie Johnson
Director and Dramaturge: Rebecca Northan
Remount Director: Adam Paolozza
Composers and Musicians: Anders Azzopardi, Stefan Hegerat and Sabine Ndalamba
Stage Manager: Conner Bustamante
Deaf Shadow Interpreter (Beagle): Cassie-Hope Aubin
Deaf Shadow Interpreter (Sojo): Juan Jaramillo
ASL-English Interpreters: Timothy Keslick and Eboni Ricketts
Puppet and Set Designers and Builders: Alexandra Simpson, Morgan Johnson and Nina Keogh
Promotional Photographer: Kathryn Hanson (ShutteredEye)
Special Thanks to Martha Ross
Animacy Theatre Collective acknowledges the support of the Ontario Arts Council.

Funding provided by the Ontario Trillium Foundation