Forward March Festival 2024
FM24 OPEN CALL FOR COMMISSIONS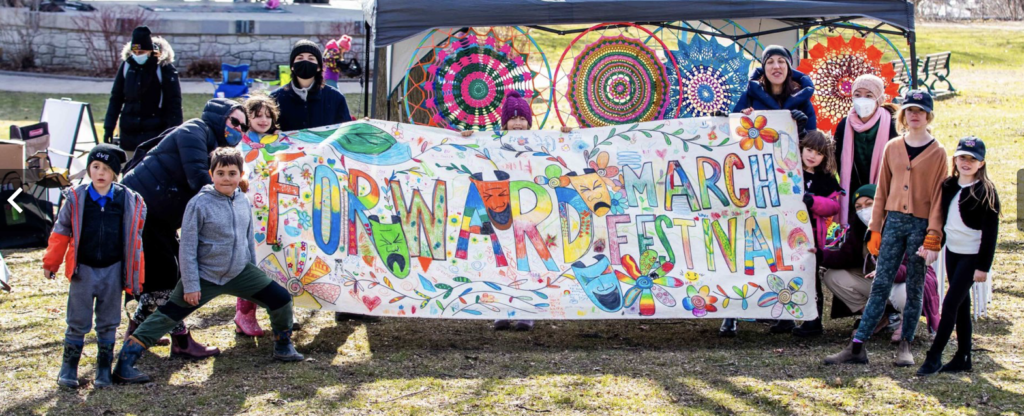 ARE YOU AN EMERGING ARTIST?
Do you have an idea for a new Theatre for Young Audiences creation?
Well, the Forward March Festival wants to meet YOU!
This year we are welcoming artists to inform our curation process and theme for the 2024 Forward March Festival. From October through November 2023, emerging artists are invited to schedule a time to meet with the Festival Artistic Producers to discuss and dream-up ideas for a potential commission slot in the 2024 festival line-up. Artists who are selected to move forward with a commission will work alongside the festival to create, produce and present a brand new 25-minute theatrical creation for young people.
Our Forward March Festival will take place in June 2024. Special to this year, we will be moving the festival to an indoor venue. Stay tuned for the big reveal in the coming months!
A Forward March Festival Commission includes:
commission/creation fee up to $10,000
FREE rehearsal space for up to 40 hours
opportunity to work with a guest artist of your choice
producing (and moral!) support
production photos and video archival of the final presentation
good times and great snacks!
Each commissioned company will also collaborate with ASL-English Interpreters to offer ASL interpretation for or voiceover in English of all performances.
E-MAIL SEHAR@THEATREDIRECT.CA TO BOOK A MEETING TIME SLOT BETWEEN OCTOBER AND NOVEMBER 2023 OR FOR ADDITIONAL QUESTIONS.
NOTE:
The meetings will take place at our office/Studio H (1 Wiltshire Avenue, Toronto).
During the booking process on Calendly, you will be asked to upload a recent headshot and CV.
During our meetings, we ask that you arrive prepared with a list of ideas for possible creations if commissioned for the 2024 festival.
We may invite select artists for follow-up meetings.
TIMELINE OF ACTIVITY:
All artists must be available for the starred dates below upon time of applying.
October to November 2023 (Tuesdays & Wednesdays) – Commission Meetings
Early December 2023 – Results Notification
Tuesday December 19, 2023 – Welcome Lunch
January to February, 2024 – Two-Week Studio H Rehearsal Period (including with Guest Artist and ASL-English Interpreters)
Tuesday March 11 to Friday March 14, 2024 – First Run-Through (for March Break Campers!)/Industry Series
April 2024 – Additional Studio H Rehearsal Period
Monday May 27 to Sunday June 2, 2024 – Tech Week
Friday June 7 to Sunday June 9, 2024 – Forward March Festival 2024

HOW WE BREAKDOWN THE $8,000 COMMISSION FEE:
$6,500 – Commission Fee
$500 – Industry Series Workshop Participation Fee
$1,000 – Tech Week Fee