Lambe Lambe Theatre Masterclass and Workshop
Led by Brazilian artist and puppeteer Nina Vogel, the Creation Warehouse will host a Lambe Lambe Theatre Masterclass and Workshop featuring eight emerging artists.
The artists will learn about the history, social movement and technique behind Lambe Lambe theatre while creating their own original pieces that will be previewed at the Ghostly Fables POP UP workshop and featured as part of Hallowe'en Hullabaloo.
Workshop Participants:
Sturla Alvsvaag
Amelia McCarthy Blaine
Pesch Nepoose
Margarita Soria
Lily Sutherland
Lorena Torres Loaiza
Jesse Wabegijig
Warda "Muna" Youssouf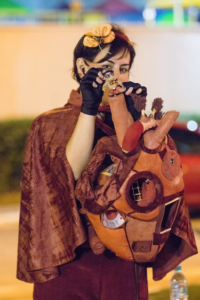 About Nina Vogel (Workshop Facilitator):
Nina Vogel is an award-winning Brazilian multidisciplinary artist, puppeteer, singer, actress and director. Her approach to puppetry and art has a strong spiritual influence inherited from both her Indigenous Guarani and Tikuna ancestry. Her work has been performed all over the world. In 2021 she was awarded the Lisa Simon Scholarship, presented to a female director whose work is currently growing in the field of puppet arts. She was also awarded the Founders Award Scholarship by the O'Neill Theater Center in the USA. Her Lambe-Lambe creation, ConCordis – the Heart, premiered in Montréal in 2019, on a tour through Québec and France. In 2020 she delivered more than 100 virtual performances of ConCordis worldwide. That same year she received an Outstanding Work Award at the 2020 Chuncheon International Puppet Film Festival, for her adaptation of ConCordis – the Heart, into a stop motion film. In 2017 she was awarded two major scholarships by the government of Québec and the École Supérieure des Arts at Université du Québec à Montréal (UQÀM), to further her skills in Contemporary Puppet Theatre performance.
For 2021/2022 Nina has received invitations from China, Japan, Romania, Portugal and Canada. Her return to the stage and live theatre begins as Guest Artist with the OSESP Orchestra, creating an original version of Sergei Prokofiev's Peter and the Wolf which she will perform at the iconic concert hall Sala São Paulo in Brazil.