VIELE GRÜSSE, DEINE GIRAFFE
a Creation Warehouse POP UP Performance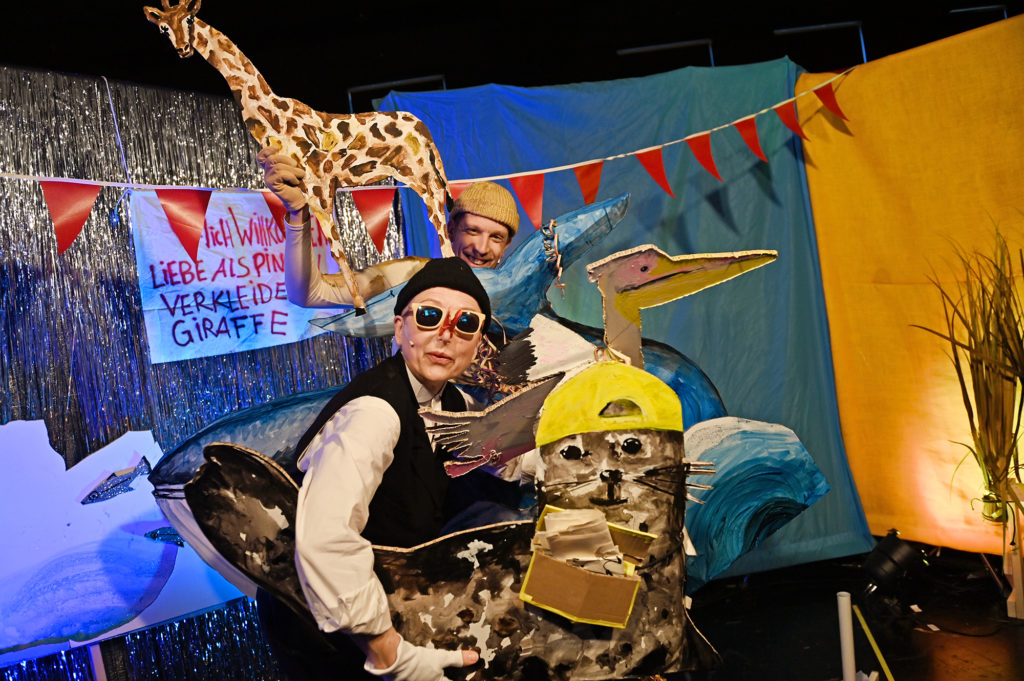 VIELE GRÜSSE, DEINE GIRAFFE
von Megumi Iwasa, aus dem Japanischen von Ursula Gräfe

YOURS SINCERELY, GIRAFFE
from the international bestseller by Megumi Iwasa
translated from the Japanese by Ursula Gräfe
Saturday April 30, 2022
1pm EST
Live from Staatstheater Mainz, Germany via Zoom
Age Range: 4-years-old+
Running Time: 30 minutes + Q&A
Ticket Price: $20 per household
**TICKETS ARE VERY LIMITED**
Please note: all performances will be in German.
Giraffe ist langweilig. Eigentlich hat sie ein herrliches Leben in der afrikanischen Savanne, mit viel Sonnenschein und leckeren Akazienblättern. Doch ohne Freunde gleicht ein Tag dem anderen. Also beschließt sie, einen Brief zu schreiben. Pelikan, der (ebenfalls aus Langeweile) gerade einen Postdienst eröffnet hat, soll ihn dem ersten Tier übergeben, das ihm hinter dem Horizont begegnet. Und so findet Giraffe ihren Brieffreund Pinguin, der ein ganz anderes Leben führt als sie, weit weg, in der antarktischen Walsee. Eines Tages beschließt Giraffe, ihren Brieffreund zu besuchen – und zwar als Pinguin verkleidet. Gar nicht so leicht, wenn man noch nie einen Pinguin gesehen hat.

Eine charmante Geschichte über Freundschaft und Entdeckung.
Giraffe has a wonderful life in the African savannah, with lots of sunshine and delicious acacia leaves. But Giraffe has no friends and she is bored. One day is just like another. So she decides to write a letter. As it happens, Pelican has just opened a postal service. Pelican is asked to deliver Giraffe's letter to the first animal he meets over the horizon. And so Giraffe finds a pen pal: Penguin, who leads a very different life from hers, far away, in the Antarctic. One day Giraffe decides to visit her pen pal – disguised as a penguin! which is not so easy to do when you've never seen a penguin before.

Please join us for this charming and funny tale of friendship and discovery!
Tim Schmutzler inszeniert den Briefroman, der 2018 mit dem Deutschen Jugendliteraturpreis ausgezeichnet wurde, als ein digitales Theaterstück für Kinder ab vier Jahren. Über eine Webkonferenz sind Schauspieler*innen und Zuschauer*innen live miteinander verbunden, können sich sehen und hören und so ein gemeinsames Erlebnis teilen
Tim Schmutzler stages the epistolary novel, which was awarded the German Youth Literature Prize in 2018, as a digital play for children aged 4yrs and up. Actors and audiences are connected live via Zoom and can see and hear each other and share this unique experience.
BESETZUNG
Mit: Andrea Quirbach, Henner Momann
Regie: Tim Schmutzler
Bühnenbild und Kostüme: Lisa Maline Busse
Dramaturgie: Lucia Kramer
CAST
with Andrea Quirbach, Henner Momann
Director: Tim Schmutzler
Set and Costume Designer: Lisa Maline Busse
Dramaturgy: Lucia Kramer