PA Days / Journées Pédagogiques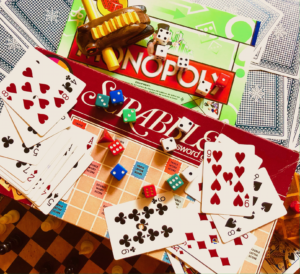 BOARD GAME BUILDER!
TDSB PA Day Workshop
Friday November 19, 2021
9am to 3:30pm
Ages: 6 to 12
Location TBA
Combine imagination, creativity, and skill to make a totally new board game for the whole family!
Monopoly, Scrabble, Risk, Sorry–all these classic board games have nothing on what your child will create in our new PA Day camp: Board Game Builder! A day full of fun and laughter will ensue while children build their very own games with our Board Game Builder kits. Using ingenuity, ideas, images and artwork, they will make a game complete with twists and turns, challenges and tests. At the end of the day they will take home a brand-new board game to play with their families.
PA DAY WORKSHOP FEE: $50/child
Bursaries available upon request: virtualcamps@theatredirect.ca.
---
CRÉEZ UN JEU DE SOCIÉTÉ !
Viamonde / MonAvenir journée pédagogique atelier
vendredi le 26 novembre, 2021
9h à 15h 30
6 à 12 ans
Le lieu sera annoncé plus tard.
Combiner imagination, créativité et habileté pour fabriquer un tout nouveau jeu de société pour toute la famille!
Monopoly, Scrabbles, Les Aventuriers du Rails, Les Oies – Tous ces jeux de société classiques servent de point d'inspiration que vos enfants vont surpasser lors de notre nouvelle Journée Pédagogique : Créez un jeu de société ! Une journée pleine de bricolages, de plaisirs et de rires s'ensuivra pendant que les enfants fabriquent leurs propres jeux de société avec notre trousse préparée. En faisant preuve d'ingéniosité d'idées, d'images et de dessins, ils créeront un jeu plein de rebondissements et de défis. À la fin de la journée, vos enfants apporteront à la maison leur tout nouveau jeu de société pour jouer avec leur famille!
Prix pour l'atelier: $50
Bourses disponibles sur demande: virtualcamps@theatredirect.ca.