Firefly at Fraser Mustard
Over the past three years Theatre Direct has been in residency with the Fraser Mustard Early Learning Academy. The goal of the project in the first year was to gather and act out the stories of all 685 kindergarten students who attend Fraser Mustard. Throughout this residency we also collaborated with the community of parents, teachers and Early Childhood Educators.
In the 2015/16 Season Theatre Direct provided the most comprehensive residency project to date. The residency was a seamless blend of professional development, artists in the classroom, access to professional live theatre, and the successful integration of drama and creative play techniques into the teaching practice of the education team.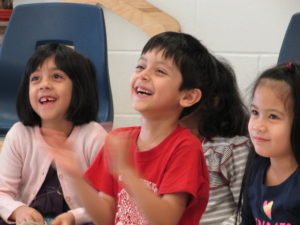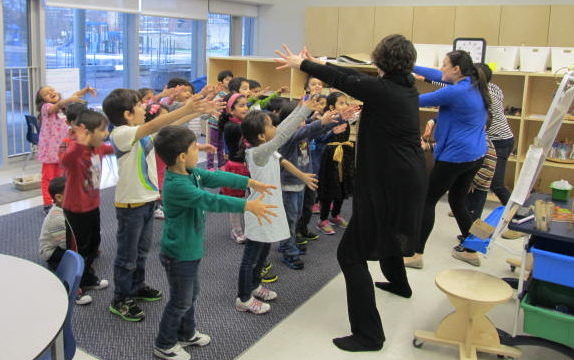 Fraser Mustard Early Learning Academy School Profile
The Fraser Mustard Early Learning Academy, which focuses exclusively on serving kindergarten aged children, opened in 2013. The school was built to relieve the student enrollment at Thorncliffe Park P.S, North America's largest elementary school with over 2000 students.
Currently Fraser Mustard has approximately 650 JK/SK students who come to school speaking a range of home languages other than English. Out of the 39 different home languages spoken by the students at Fraser Mustard, the most frequently spoken home language is Urdu followed by Pashto, Gujarati, and Dari.
What Fraser Mustard is saying…
"This has been the most important piece of PD [professional development] I have ever had."
– Kindergarten Teacher, Fraser Mustard ELA

"Students realty enjoyed being a part of each other's stories and continued talking about them after they were acted out!"
– Kindergarten Teacher, Fraser Mustard ELA

"I noticed in particular that the project engaged even my quietest students and really encouraged them to share their stories."
– Kindergarten Teacher, Fraser Mustard ELA

"I love it when you listen to my stories"
– Student Age 5, Fraser Mustard ELA
Stories & Pictures from Fraser Mustard