Forward March Festival Playwrights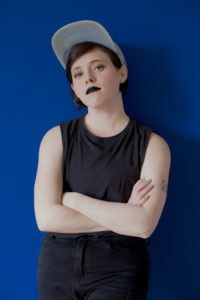 Elena Eli Belyea is a queer playwright, performer, producer, arts educator, and Artistic Director of Tiny Bear Jaws (theatre with teeth). Past credits and collaborations include: co-founding the Common Ground Arts Society's Found Festival (a showcase of multidisciplinary arts events that take place in non-traditional venues), co-creating and performing in The Worst Thing I Could Be (Is Happy) (produced by Tiny Bear Jaws and presented as part of Buddies in Bad Times' 2018 Rhubarb Festival), playwright of Cleave (produced by Tiny Bear Jaws and presented as part of the Fringe Theatre's curated Backstage Season 2018), writing and performing in Miss Katelyn's Grade Threes Prepare for the Inevitable (produced by Tiny Bear Jaws and presented by Downstage Theatre, Fringe Theatre, and the Sunset Theatre; French translation premiered at Théâtre Prospero). Elena was also a member of the 2016-2017 Write From the Hip Playwriting Unit (Nightwood Theatre).  Elena's plays have received numerous awards, including First Place in the 2015 Wildside National Playwriting Competition with Cleave (also included as part of the Playwrights Guild of Canada's 2018 Surefire List). Upcoming: Smoke (premiering with Downstage Theatre in February 2019) and developing a new play with support from Tarragon Theatre's as the recipient of their 2018-2019 RBC Emerging Playwright Award. Cleave: For 17-year old intersex Aaron, the new school year means a new chance at life. For Pina, another shot at head cheerleader. For Mark, open season. A stranger intersects with a family in exile from itself. Parents Paul and Carol struggle to keep secrets from their children, desperate to know the truth. Like a surgeon's knife before a first incision, the scalpel is poised and ready to slice.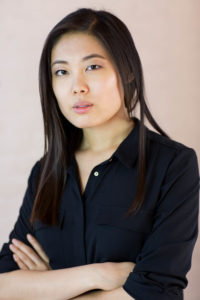 Bessie Cheng is a Chinese-Canadian performer and playwright. She graduated from the Playwriting and Devised Theatre program at York University in 2016. She was a member of The Foundry in 2017, a playwriting unit facilitated by Nina Lee Aquino at Factory Theatre, where her most recent play Dirt had its first staged reading. Dirt was named one of the winners of the Ellen Ross Stuart Award from the Ontario Arts Foundation and was nominated for the RBC Emerging Playwright Award from the Playwrights Guild of Canada. Bessie's recent and forthcoming credits include: Yellow Rabbit (Soulpepper/Silk Bath Collective), Silk Bath (Next Stage Festival/Toronto Fringe), and Lion Womxn (Summerworks/AMY Project). In 2016, Bessie was selected by Cahoots Theatre as one of their 30 theatre-makers who will shape the next 30 years in Canadian theatre. Dirt: Dirt is a queer coming of age story that follows two boys of opposing ethnic groups growing up as best friends in Urumqi, China. Spanning 15+ years in timeline and set in both Urumqi and Toronto, Dirt explores the intersection between queerness and race, as well as the idea of using power as a violent force.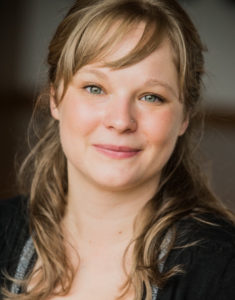 Michaela Jeffery is a Calgary based playwright and recent graduate of The National Theatre School of Canada (2016). Recent writing credits include: WROL (Without Rule of Law), The Listening Room, Cardiac Theatre (Edmonton) in conjunction with The Azimuth Theatre & Downstage Performance Society – February 2018 (finalist, Project Playwright 2017 – Sanguine Theatre, NYC). Always (The Cultch Emerging Artist Festival – Vancouver, 2017), Hardscrabble Road, GODHEAD, (Shortlist, Headwaters New Play Festival – Creede, Colorado; The Sunset Theatre, Wells, BC), Sundogs (Holding Hollow Productions; Edmonton International Fringe Festival), and others. Her piece Expanding Concepts of Dislocated Space (And Associated Boundaries) was recently published in the July 2018 edition of Bare Fiction Magazine (UK Publication). Michaela was a recent finalist for the Playwrights Guild of Canada's RBC Emerging Playwright Award for her play The Listening Room, as well as recipient of the 2015 national Enbridge Playwrights Award (Emerging Category) for her developing play, Going West. Michaela spent two seasons (16/17 & 17/18) as a member of Alberta Theatre Projects national Playwrights Unit. WROL (Without Rule of Law): Convinced the world at large can't be trusted to prioritize the well-being of adolescent girls in the event of a cataclysmic event (or just in general), this determined troupe of 8th grade 'doomers' are committed to preparing for survival in the post -collapse society they anticipate inheriting. Judy Blume meets Rambo, WROL (Without Rule of Law) is a darkly comic coming-of-age story for complicated times.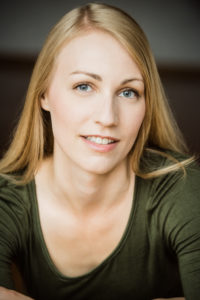 Chelsea Woolley is a playwright whose work includes: Enormity, Girl, and the Earthquake in Her Lungs (Nightwood's Groundswell Festival), The Mountain (Geordie Productions), These Peaceable Kingdoms (New Words Festival), and The Only Good Boy (Theatre BSMT). This year Chelsea was included on the SureFire List, a ranked list of under-produced Canadian plays by women, for her play, The Exhibition of Extraordinary Oddities and Living Freaks. She has attended the Banff Playwright's Lab and the National New Play Network's MFA Playwright's Workshop at the Kennedy Centre (Washington, DC). Chelsea has worked closely with youth as a former high school teacher, and recently at a Boys and Girls Club and at Red Door Shelter where she was the program director and co-writer of a play created with eight teens living there. Chelsea is a graduate of the National Theatre School of Canada's Playwriting Program. Hey May Hey: After the loss of her father and a series embarrassing interactions with: cruel classmates, a nosy teacher, a try-hard mother, and a very handsome boy, the ever awkward May Macdonald vows to go on a silence strike. A play about grief, community, and finding your voice.