Forward March Festival Directors
Jasmine Chen (Director, Dirt) is a Chinese-Canadian multidisciplinary artist. Creator of the Mother Tongue Project and Resident Artist at the Gateway Theatre. Her performance credits include: the Stratford Festival, Shaw Festival, Canadian Stage, RMTC, Young People's Theatre, Talisman Theatre, Volcano Theatre, and more. Her directing credits include: Yellow Rabbit (Silk Bath/Soulpepper), Goodnight Desdemona (Good Morning Juliet) (Banff/Citadel), Le Ba-Ta-Clan (Opera 5), The Mother Tongue Project (Then They Fight). Residencies: B Current Performing Arts, Lemontree Creations and Cahoots Theatre. Jasmine is a passionate arts educator and movement consultant for opera/theatre. Upcoming: Performing in Antigone (Young People's Theatre) Website: msjasminechen.com
Andrea Donaldson (Director, Hey May Hey) almost exclusively directs and develops new works in Canada. Recent directing credits include Sequence (Tarragon), These Peaceable Kingdoms (NTS), and the following Dora-nominated projects: Quiver(Nightwood Theatre), Within the Glass (Tarragon), Mistatim (Red Sky), The Atomic Weight of Happiness (Theatre Direct), Montparnasse (TPM), Offensive Fouls (Theatre Direct), The Unfortunate Misadventures of Masha Galinski(National tour).
Other recent credits include Romeo & Juliet (Shakespeare in the Ruff), Janet Wilson Meets the Queen (GCTC), Soliciting Temptation (Tarragon), Beautiful Man (Summerworks), Une Parcelle de moi… (Espace René-Provost, Gatineau), CLEAVE (NTS), Tyumen Then (Toronto Fringe). Andrea has been honoured with Stratford's Jean Gascon Award for Direction, has been nominated for the Pauline McGibbon Award & the John Hirsch Directing Award and has received a Dora Award for Outstanding Performance & Production for performing in And By the Way, Miss (Theatre Direct). Andrea was Tarragon Theatre's Assistant/Associate Artistic Director for four seasons, is going into her first season as the Artistic Director for Nightwood Theatre (after four seasons as the Program Director for their Write From the Hip program) and is co-Artistic Director of Groundwater Productions with GG Award winning playwright Erin Shields.
Sadie Epstein-Fine (Director, Cleave) (she/they) is a second generation queer artist and activist. She has trained in directing, playwriting, performance, devised theatre creation, dance and stage combat, and their work is a fusion of that training.  Directing credits include: SCAT (Laugh Serious Theatre, 2017), Tire Swing (Filament Incubator, 2016), Eraser (Homeland Collective, 2016). Upcoming: Sadie will be directing The Lawyer Show at Nightwood (Mamma Mia!) and Eraser as a part of Why Not Theatre's Riser Project. Other companies Sadie has had the pleasure of working with include Buddies in Bad Times Theatre, Canadian Stage, Theatre Panik, Theatre Direct and Epigraph Collective. Sadie is currently the intern Artistic Director at Nightwood and is the co-editor of Spawning Generation: Rants and Reflections on Growing Up with LGBTQ+ Parents (Demeter Press) which was voted one of the Top 10 Books of 2018 by NOW Magazine.
Lynda Hill (Director, WROL (Without Rule of Law) is a professional theatre director, dramaturge, arts educator and arts leader with a passion for the creation and development of new work, new artists and new audiences. As Artistic & Executive Director of Theatre Direct from 2001 until early 2019, she led the company's artistic and organizational direction mounting 19 productions including 12 original commissions. Featured directing credits for Theatre Direct include Alphonse, Andrew's Tree,  Beneath the Banyan Tree, Sanctuary Song and most recently, Flying Hearts, and Old Man and the River for early years audiences.
In 2012, Lynda initiated Theatre Direct's early years project which included storytelling and drama residencies in kindergarten classes throughout Toronto and the development of community-based classes and camps aimed at children 3-5 years informed by international trends in theatre and education for early years and her participation in the International Study Week in Reggio Emilia, Italy at the Loris Maliguzzi Centre. In 2014, she founded  The WeeFestival of Theatre and Culture for Early Years, English Canada's first international festival dedicated to audiences 0-6 years and featuring sophisticated theatre, performance, and multidisciplinary events from around the world and Canada.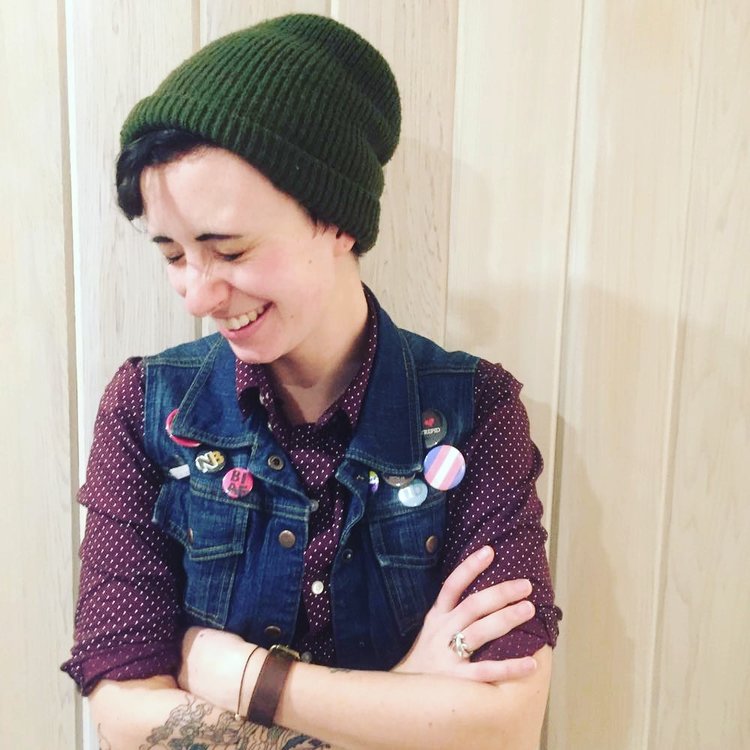 Kai Taddei (Assistant Director, Cleave) (they/them) is an Italian-Canadian transgender playwright, performer, director, and educator, originally from the unceded territories of the Lekwungen-speaking and SENĆOŦEN-speaking peoples (Victoria, BC). They are an MFA candidate in Creative Writing at the University of Guelph, and hold a BFA in Creative Writing from the University of Victoria. Their work has been presented by Ruby Slippers (Advance Theatre Festival, 2018), Theatre SKAM (Skampede Festival, 2018), Intrepid Theatre (OUTstages Festival, 2015/18), and The Belfry (SPARK Festival, 2017/18), among others. Connect with Kai on Instagram @kai.writes.stuff, Twitter @KaiTaddei, or on their website, www.kaitaddei.com.