ERASER: A New Normal
Theatre Direct is thrilled to present:
"Imaginative, urgent, and relevant theatre." NOW Magazine
Created and Co-produced by the company of Eraser Theatre
Directed and Choreographed by Bilal Baig and Sadie Epstein-Fine
A Virtual Play Recommended for Grades 5-8 
October-December
ERASER: A New Normal follows the lives of six elementary students as they navigate their way through this unprecedented time in the world. From Pakistan to Canada, the students deal with losing loved ones, isolation, new friendships and crossing borders all while dealing with the constraints of how to stay safe and socially distant. The students dance, sing and vlog their way through the realities of the COVID-19 pandemic, finding new ways to connect while fantasizing about how things could be different in this "new normal". Ideal for both virtual & in-person school set ups.
ERASER: A NEW NORMAL IN THE TORONTO STAR!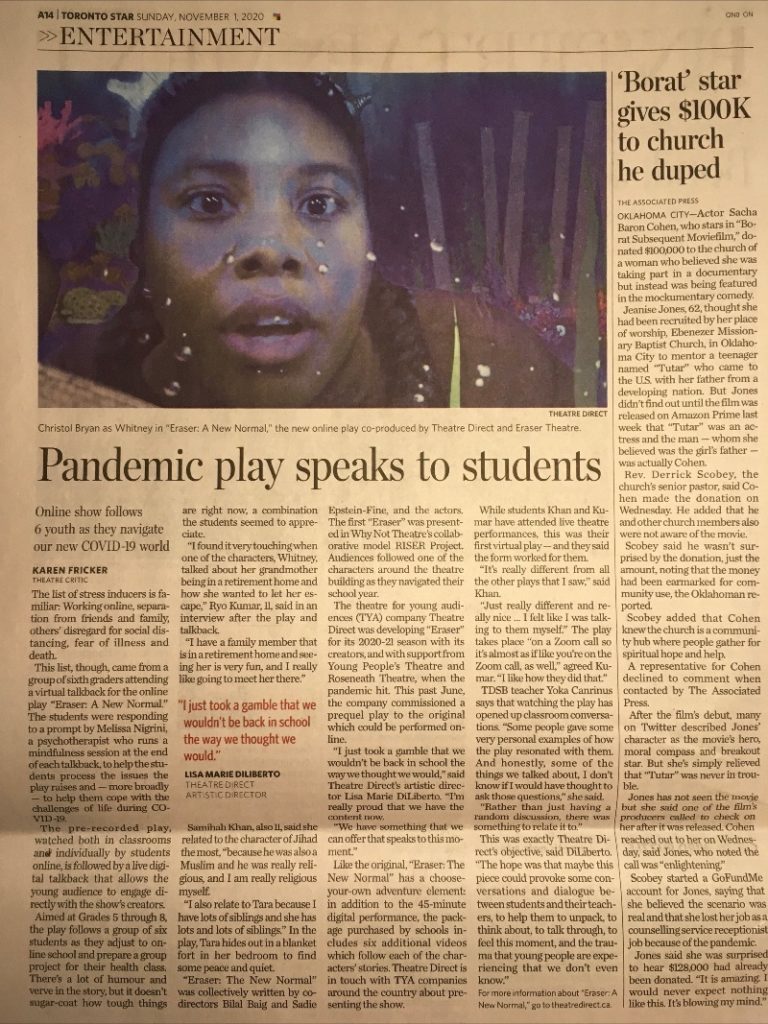 "It's really different from all the other plays that I saw. Just really different and really nice…I felt like I was talking to them myself." 
– Samihah Khan, age 11
"Some people gave some very personal examples of how the play resonated with them. And honestly, some of the things we talked about, I don't know if I would have thought to ask those questions. Rather than just having a random discussion, there was something to relate it to" 
– Yoka Canriuns, TDSB Virtual School Teacher

ERASER: A New Normal Themes: Identity (Cultural, Gender, Sexuality, Community), Mental Health, Immigration, Religion & Spirituality, Relationships, Puberty, Loss & Grief, Bullying, Imaginative Play

ERASER: A New Normal Curriculum Connections:
Student Development: Social, physical & emotional growth
Dramatic Arts: Devised creation & digital performance
Critical Thinking: Reflect, respond and analyze performance techniques
Social Studies:Explore different cultures and communities
What students had to say about ERASER…
"It talked about.. life really and life isn't just a big fairytale, it's got some hard moments."
"I also like how each of the characters was from a different place, because I…relate…"
"…one of the best play[s] I've ever seen"
HOW IT WORKS & HOW TO BOOK:

ERASER: A New Normal is a completely digital show that will be sent to you as a link to view anytime between October 14th to December 23rd 2020. Included in your booking are two livestream classroom talkbacks hosted by Theatre Direct. The talkbacks will include a discussion surrounding the themes of the show with members of the creative team, a question and answer portion and conclude with a Mindfulness & Wellness session guided by a Consultant. We recommend 30 students per talkback.
~ Running time is 40 minutes with a 60 minute livestream talkback
Included in your booking is:

– A link to view ERASER: A New Normal (only available Oct. 19 – Dec. 23, 2020)
– Education Enrichment Package. This package will include prompts for class discussion, questions and exercises that elaborate on the themes of the show.
*Please note, the link for the show and the enrichment package will not be available before October 19.
– A livestream talkback with the creators of the piece and a Mindfulness & Wellness session guided by a Consultant via ZOOM. (Approx. 60 minutes)
Payment: The fee per school is $600 plus HST to be paid at time of booking. Booking includes 2 live online classroom talkbacks. Additional talkbacks are $200/per talkback.

To be granted access this digital show and accompanying enrichment materials, book your talk back and pay your fee, please email sehar@theatredirect.ca

We're excited to partner with Daytrippers!
Daytrippers Children's Charity enables experiential learning opportunities by providing funding to students in low-income and remote communities.
Visit their website to receive more info about funding eligibility.

Production History
Eraser was originally presented as part of Why Not Theatre's RISER 2019 Project. The following year it was in development in Theatre Direct's season with play development support provided by Young People's Theatre and Roseneath Theatre, Toronto, Canada.
The Eraser: A New Normal Team
CAST
Tijiki Morris as Afroze
Christol Bryan as Whitney
Nathan Redburn as Noah
Marina Gomes as Tara
Tony Perpuse as Eli
Bilal Baig as Jihad
John Echano as Voice of the Mayor
Lisa Marie DiLiberto as Voice of Tara's Mom

CREATIVE & PRODUCTION TEAM
Bilal Baig, Co-Director
Sadie Epstein-Fine, Co-Director
Emily Soussana, Digital Content Designer
Vanessa Magic, Costume Designer
Rebecca Vandevelde, Lighting Designer
Maddie Bautista, Sound Designer and Composer
Cole Vincent, Production Manager
Steph Raposo, Video Editor