Board of Directors

Chair | Fanny Martin

Creative Producer, Art of Festivals
When I was a child, I dreamed of being a pianist and having three big dogs…
Fanny Martin is the founding Director of 'think-and-do' not-for-profit consultancy Art of Festivals. Her work is focused on shaping cultural strategies, engaging people in public space, designing arts-based learning programs and creating experiences with artists, educators, academics, technologists and citizens that disrupt and enchant the everyday.
Born and educated in France, where she completed an MA in Interdisciplinary Art Theory and an MSc in Business Management, Fanny spent 10 years in the UK working as a creative producer for live music and events and as a consultant leading on sector-building initiatives and organisational development planning.
In Canada, she has managed events, programs and projects for organisations of various sizes and disciplines, from art & science symposium Subtle Technologies to literature mentoring charity Diaspora Dialogues, civic engagement global movement Jane's Walk, multidisciplinary festival Luminato and Local Arts Service Organization North York Arts. She is Chair of the Marketing & Communications Committee of Arts Consultants Canada.
---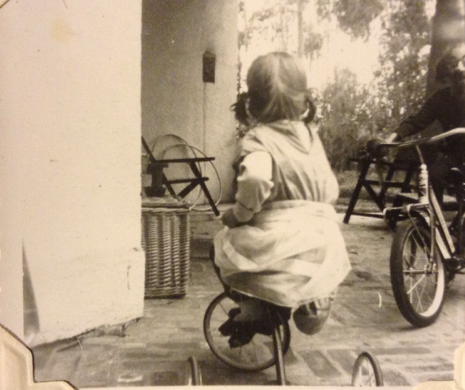 Secretary | Mary O'Connell
Retired Educator-TDSB, M.Ed. Student
When I was a child, I dreamed of being "a beautiful lady going to the store today…" (written on back of photo)
Mary O'Connell began working in modern dance in the 1970's, performing in New York City with Mary Overlie and Douglas Dunn and making pieces under the auspices of the Mabou Mines Theatre Company. She also performed in theatre work with Ann Bogart. She moved to Toronto in 1982 and wrote about dance, video and books for Now Magazine and Dance in Canada Magazine. She then taught elementary school for 22 years with the Toronto District School Board. She has her teacher's drama specialist training. She has a B.A. from Columbia University and a B.Ed. from York University.  She is currently working on her M.Ed. at York.
---
Treasurer | Tom Carson
Executive Director, Smile Theatre
When I was a child, I dreamed of being a drummer in a rock band…
Tom Carson is the Executive Director of Smile Theatre, whose mandate is to bring professional musical theatre to seniors.  Tom has been working in theatre for over twenty years as a director, producer/administrator, writer and teacher.  He is a dynamic artistic leader and catalyst for performance projects that have reached audiences internationally. Tom has a special interest in creating and supporting projects that reach vulnerable and authentic audiences, ranging from young children, to adults living with special needs, and to seniors in care.
---
Member at Large | Pamela Wilson
Senior Manager of Corporate Partnerships, Evergreen Brick
When I was a child, I dreamed of being a ballerina and auditioned for the National Ballet at the age of 12.
Today, Pamela is an innovative relationship builder with over 20+ years of sales & marketing experience in the Corporate and Not-for-Profit sectors.  She started her career in sales at Four Seasons Hotels & Resorts — honing her skills in account management and customer service.  She was first introduced to Theatre Direct through her work with The Little Paper as Director of  Sales & Marketing and helped promote Theatre Direct and the Wee Festival!  As the Senior Manager of Corporate Partnerships at Evergreen, Pamela is responsible for creating strategic partnerships that support Evergreen's national programs and make our cities better places to live, grow, learn and play in.
---
Member at Large | Brady Wood
Entrepreneur
When I was a child I dreamed of being a renowned cartoonist…
Brady is a skilled executive and entrepreneur with a track record of building and operating a nationwide business. He also held executive positions in large hospitals for over 10 years.
---
Member at Large | Laura Levin
Ass. Professor of Theatre & Performance Studies & Director of Sensorium: Centre for Digital Arts & Technology