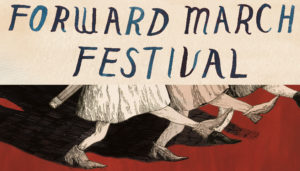 FOR SCHOOLS
Theatre Direct, one of the Country's leading theatres for youth is pleased to announce the Forward March Festival, a dynamic new festival of new cutting-edge theatre by, for, and about youth taking place March 4-10, 2019 at The Redwood Theatre in Toronto's East End.
The inaugural lineup of featured plays in the Forward March Festival focuses on timely, relevant, and challenging topics that relate directly to the experience of young people.
March 4 | Hey May Hey by Chelsea Woolley
After the loss of her father and a series embarrassing interactions with: cruel classmates, a nosy teacher, a try-hard mother, and a very handsome boy, the ever awkward May Macdonald vows to go on a silence strike. A play about grief, community, and finding your voice.

(Recommended for grades 9/10)
March 5 | Cleave by Elena Belyea
For 17-year old intersex Aaron, the new school year means a new chance at life. For Pina, another shot at head cheerleader. For Mark, open season. A stranger intersects with a family in exile from itself. Parents Paul and Carol struggle to keep secrets from their children, desperate to know the truth. Like a surgeon's knife before a first incision, the scalpel is poised and ready to slice.
(Recommended for grades 11/12)
March 6 | Dirt by Bessie Cheng
Dirt is a queer coming of age story that follows two boys of opposing ethnic groups growing up as best friends in Urumqi, China. Spanning 15+ years in timeline and set in both Urumqi and Toronto, Dirt explores the intersection between queerness and race, as well as the idea of using power as a violent force.
(Recommended for grades 10/11)
March 7 | WROL (Without Rule of Law) by Michaela Jeffery
Convinced the world at large can't be trusted to prioritize the well-being of adolescent girls in the event of a cataclysmic event (or just in general), a determined troupe of 8th grade 'doomers' are committed to preparing for survival in the post-collapse society they anticipate inheriting. Judy Blume meets Rambo, WROL (Without Rule of Law) is a darkly comic coming-of-age story for complicated times.
(Recommended for grades 10/11)
About the Day Long Programme for Schools
Students attending will participate in an engaging full-day programme beginning with a performance reading of the work followed by facilitated discussion and reflection activities led by the director and playwright and drama-based workshops after lunch. All classes attending receive comprehensive preparation packages and a classroom copy of the scripts featured in the festival.
Each day can accommodate 60-70 students and is organized according to the following schedule:
9:30 Arrival and Introduction to the day
10:00 Performed Reading
11:15 Post-show facilitated reflection and discussion with the playwright
12:00 Lunch
12:40 Workshop #1
1:30 Workshop #2
2:30 End of Day
Cost: $20.00 per student (Subsidy Available)

This programme is suitable for English, Drama, and Social Studies classes.
The 2019 Forward March Festival runs from March 4-10, 2019 at the Redwood Theatre, 1300 Gerrard St E, Toronto, ON, M4L 1Y7.
School Bookings: If interested in bringing students to festival programming, contact Theatre Direct's Education Coordinator at education@theatredirect.on.ca
Click here to read the Playwright's Bios
____
ABOUT THEATRE DIRECT
Now, in its 42nd season, Theatre Direct Canada is one of the Country's leading theatres for young audiences whose award-winning productions have reached audiences in schools and theatres across Canada and overseas. Theatre Direct's work has been recognized with multiple Dora Mavor Moore Awards and nominations as well as 10 Chalmers Canadian Play Awards, and the Canada Council Theatre for Young Audiences Prize.