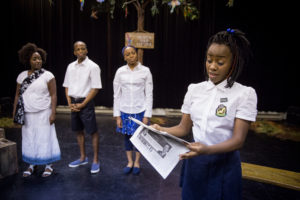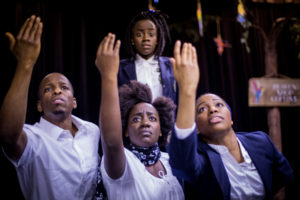 Public Shows
at the Wychwood Theatre
April 8 – 2pm
April 12 – 7pm Benefit Performance  
April 15 – 4pm
April 22 – 4pm
April 23 – 2pm
BUY TICKETS
An anthem to hope, courage, and the resilience of youth in the face of adversity, Deborah Ellis's acclaimed novel for youth is brought to life through the power of drama, storytelling, dance and music in an inspiring theatrical production……

The Story
Binti, lives with her father and her two older siblings, Junie and Kwasi in Blantyre, Malawi. Her father owns a profitable coffin-making business and Binti, a very special thirteen year old, is an actor on a radio drama.
Tragedy strikes when the three children lose their father to AIDS-related pneumonia. The siblings are separated and sent to live with other relatives who rob and exploit them. Binti escapes and travels to the country to live with her grandmother, Gogo, at the latter's orphanage. It is at the orphanage where Binti redefines what makes her special and where she discovers her sense of responsibility and community.
Music, dance, and choral speaking along with compelling drama make Binti's Journey a powerful theatre experience.
Best for audiences 10 years +
Performance is 60 minutes with no intermission
Join us for special post-show chats with the reps from CANFAR and the artists behind the show.
Creative Credits
Adapted by Marcia Johnson from the novel The Heaven Shop by Deborah Ellis
Commissioned and produced by Theatre Direct Canada
Directed by Lynda Hill from the original direction by ahdri zhina mandiela
Original Set and Costume Design by Melanie McNeill
Original Music and Movement by Mxolisi Welcome Ngozi
Performed by Aiza Ntibarikure, Dayane Ntibarikure, Jaa Smith Johnson, Keren Roberts
"We took our three boys to see Binti's Journey  yesterday and we were all blown away by it. When a 9 year old, 11 year old, 14 year old and two 40 somethings are all transfixed by the same play, you know you're doing something right. Our boys have cousins in South Africa, so the content of the play is very real to them. It was handled so deftly, so directly, so sensitively by the play—I wish everyone could see it." – Parent
For Schools
Only 4 shows left! April 4 – 1pm, April 7 – 10am, April 10 – 1pm, April 11 – 1pm
Recommended for Grades 6-9
book a class trip!
Tickets are $12 per student, with complimentary educator tickets available.
This production is a perfect complement for classes planning to study the novel The Heaven Shop and/or the non-fiction companion work Our Stories Our Songs: African Children Talk About AIDS.
 "The adaptation wonderfully captured Binti's story and provided an opportunity for my students to experience the magic of theatre in an amazingly accessible space. I am so excited to bring this production to my students next year, I can't wait til September!!" -TDSB Educator
All classes attending will receive a comprehensive Guide for Educators written by Victoria Roberts our Education Consultant. Available for download now:
Guide for Educators
Supplementary Activities
Information & Statistics
Also available for educators who book a school performance of Binti's Journey:
Teacher guides for both The Heaven Shop and Our Stories, Our Songs by Deborah Ellis developed through UNICEF.
Access
Theatre Direct welcomes and provides support for ALL children and youth including those who may require assistance; this includes all types of exceptionalities (ASD, MID, DD, Deaf and hard of hearing, blind or visually impaired). Please email education@theatredirect.on.ca to let us know how we can best provide support for your student's unique needs.
Press
Read the Review for the 2016 Production of Binti's Journey at Black Theatre Workshop
Read the Review for the 2012 Production of Binti's Journey at Young People's Theatre
Read the Review for the 2009 Production of Binti's Journey at Manitoba Theatre for Young People
This wise and beautiful story refuses to let tragedy overwhelm hope. – Winnipeg Free Press
Touring History
Premiered by Theatre Direct in 2008 at the Tarragon Extra Space. The production was remounted in 2009 and 2010 at the Wychwood Theatre, and presented by Young People's Theatre in 2012.
Binti's Journey was  also presented by:
Manitoba Theatre for Young People, 2010
Richmond Hill Centre for the Arts, Richmond Hill – February 2009
Young People's Theatre, Toronto – November-December 2012
Black Theatre Workshop, Montreal in association with Theatre Direct- January-February 2016
About The Heaven Shop by Deborah Ellis
Compelling and uplifting, The Heaven Shop, is a contemporary novel that puts a very real face on the African AIDS pandemic, which to-date has orphaned more than 13 million African children. Inspired by a young radio performer the author met during her research visit to Malawi, Binti Phiri is a compelling character that readers will never forget.
Awards and Nominations: Ontario Library Association's Golden Oak Award winner 2006 Winner of the 2005 Jane Addams Children's Book Award in the category of Honor Books for Older Children Shortlisted for the 2006 Alberta Children's Choice Book Award, A Manitoba Young Readers' Choice Awards Honour Book for 2006 Foreword Magazine 2004 Book of the Year Award finalist A Children's Africana Book Awards (CABA) 2005 Honor Book for Older Readers A Canadian Children's Book Centre Our Choice 2005 Ruth & Sylvia Schwartz Children's Book Award for Young Adult/Middle Reader Books finalist
Catering for the Benefit Performance provided by: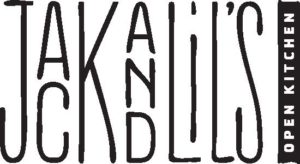 Photography by: Antoine Saito