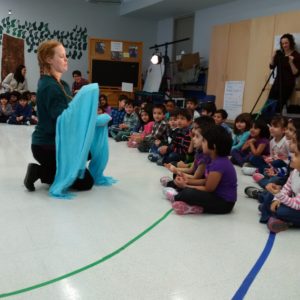 Lost and Found
Extended Puppetry and Storytelling Experience 
for Kindergarten/Grade 1
Available May 2019
Inspired by our work with kindergarten students in our Firefly Project, Lost & Found is designed to enhance your classroom learning and spark new approaches to collaborative and individual story making with found objects.
"Genius! Brilliant! This presentation was so entertaining and engaging but equally it was inspirational because it used everyday objects so that any child could immediately try out ideas and techniques in class and at home. I was super inspired as well!"  – Educator
Program Content:
Morning workshops and after-lunch performance
Number of Classes Served: 3
About the Morning Workshops:
Artists visit each class to introduce storytelling through puppetry, using found objects and materials, in an engaging and interactive workshop where magically a mitten becomes a fish, a toque becomes a princess, and a scarf becomes a snake!
About the Afternoon Show:
Three friends discover a treasure chest of stories in a lost and found bin! You will encounter puppeteers, live music, narration, and a mischievous grandmother who spins tales about her favourite animal creatures and their adventures.
Lost and Found was developed out of Theatre Direct's extensive drama and storytelling residencies at Fraser Mustard Early Learning Academy.
Booking Details
Audience Size: 90 (3 classes)
Grades: K-1
Contact: education@theatredirect.on.ca
Creative Credits
Written and Designed by Andrew G. Young, Ginette Mohr, and Ingrid Hansen,
with additional contributions by Elliott Loran. 
Backdrop designed and built by Andy Miller.
Lost and Found was created through the support of Theatre Direct