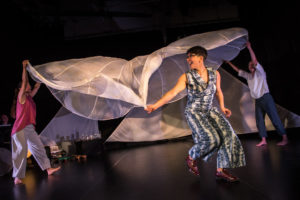 For children 2 years + and children of all abilities
A Relaxed and Autism-Friendly Performance
Performances in May 2019 as part of the 2019 WeeFestival
Email education@theatredirect.on.ca to book
Join four friends as they set off on an imagination adventure through the sights, sounds, and textures of earth, water, air, and light! Flying Hearts combines dance, theatre and music in a multi-sensory and interactive dance/theatre creation that promises a rich and stimulating arts experience for young audiences.
Conceived as an inclusive, immersive, and fully Relaxed Performance, Flying Hearts welcomes children with Autism Spectrum Disorder, Developmental Disabilities, or any child for whom a traditional theatre experience is challenging.
Flying Hearts musical dance experience is a gift to students with developmental disabilities  and diverse learning needs. Over the past five years I have seen time and again the incredible effect drama and dance experiences created by Theatre Direct has had on students at Beverley PS—thoughtfully and sensitively engaging them with dynamic sensory experiences. Theatre Direct has an open collaborative approach that makes her performances not only accessible but uniquely meaningful. Every student—especially those with special needs—deserves to experience the wonder of Flying Hearts."​ Educator
Creative Credits
Created by Michelle Silagy and Lynda Hill
Direction and Dramaturgy by Lynda Hill
Choreography by Michelle Silagy
Original Music Composed and Performed by Cathy Nosaty
Set Design by Jung Hye Kim
Costume Design by Jennifer Dallas
Lighting Design by Jennifer Lennon
Featuring dance artists Jessica Runge and Tylee Jones
with Emma Zabloski
Flying Hearts is performed within a stage environment evoking a sailing ship of dreams. The dancers accompanied by a musician playing a range of percussive and melodic instruments journey through the world of light, water, air, and earth expressed through sophisticated, yet accessible choreography inspired by play. Between each chapter of the story, the audience are treated to a sensory experience that compliments the action on stage. For example, gentle wafting of fans for air, light misting of water, and gentle bubbles.
The audience is seated close to the action with rich lighting that gently transforms the atmosphere, compliments the environment of the stage setting. In this way we can include the children in the action and world of the performance. Before and after the performance, the children can interact with a sensory installation that is inspired by the elements of the show and that supports their preparation for the show and transition from their previous environment or activity.
"This is a charming dance/theatre piece incorporating sounds, and textures of earth, water, air and light. The children sit on a green 'grass' covering around the playing area while two engaging performers (Jessica Rung and Tylee Jones) dance around the space, float soft materials, feathers, etc. in the air making patterns that captivate their young audience. Light mists of water are gently sprayed above the heads of the audience as they experience the delicate droplets of water. Other times both performers blow bubbles above the audience's heads as the young people gently grab at the bubbles. There is a show of stars above them. Music is provided by Cathy Nosaty who weaves in and out of the action playing her original compositions on various instruments.
Before the show, on a table in the lobby, the young audience is invited to dip their hands in a bowl of magic 'gooy sand,' play with a feather boa, draw and drag their hands in a sculpture made of flexible, soft spokes in preparation for the show inside. Wonderful."
RELAXED AUDIO DESCRIPTION
*Relaxed Audio Description, or Relaxed Description (RAD) provides an audio 'guide' for listeners while watching a play. The service contributes to understanding and engagement with content and provides one consistent, reliable voice through out the show. Some descriptions include: description of expressions and emotions, drawing attention to important happenings on stage and cues ahead of anything that may change suddenly or be startling.
The descriptions are given into a mic and received by listers via headphones. Patrons are encouraged to bring their own, standard jack (3.5mm) headsets. This allows the listener to easily turn down, turn off, or remove the description if desired.
Audio Description by Kat Germain
Development of Flying Hearts was generously supported by CIBC's Children's Foundation.
Kinetic Sand provided by Spin Masters.

Flying Hearts receives its international premier at the WeeFestival of Theatre and Culture for Early years, May 2018, www.weefestival.ca