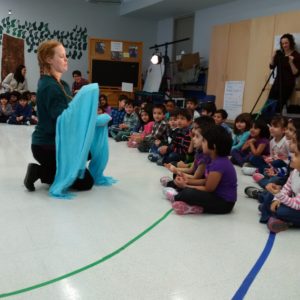 This unique puppetry and storytelling experience offers morning workshops with students and an afternoon performance – exclusively for the youngest students! Lost and Found was developed and tested through Theatre Direct's residencies at Fraser Mustard Early Learning Academy and Crescent Town PS and in the 17-18 season will be offered to schools through Prologue to the Performing Arts.
For your school's Kindergarten Division
Creative Credits
Written and Designed by Andrew G. Young, Ginette Mohr, and Ingrid Hansen,
with additional contributions by Elliott Loran. Lost and Found was created through the support of Theatre Direct
Backdrop designed and built by Andy Miller.