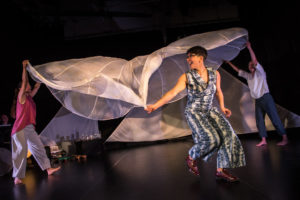 For children 2 years + and children of all abilities
A Relaxed and Autism Friendly Performance
May 18 -20 | The WeeFestival of Theatre and Culture for Early Years
Spring 2019 | Tour
SOCIAL STORY

Join four friends as they set off on an imagination adventure through the sights, sounds, and textures of earth, water, air, and light!  This multi-sensory and interactive dance/theatre creation performed to live music promises a rich and stimulating arts experience for young audiences.
Flying Hearts combines dance, theatre and music in a sensory-rich and stimulating performance conceived as an inclusive and fully Relaxed Performance experience for all children and especially stimulating for children with Developmental Disabilities and/or Autism Spectrum Disorder.
Creative Credits
Created by Michelle Silagy and Lynda Hill
Direction and Dramaturgy by Lynda Hill
Choreography by Michelle Silagy
Original Music Composed and Performed by Cathy Nosaty
Set Design by Jung Hye Kim
Costume Design by Jennifer Dallas
Lighting Design by Jennifer Lennon
Featuring dance artists Jessica Runge and Tylee Jones
with Emma Zabloski
Flying Hearts is performed within a stage environment evoking a sailing ship of dreams that transforms a school gym into an intimate theatre. The dancers accompanied by a musician playing a range of percussive and melodic instruments journey through the world of light, water, air, and earth expressed through sophisticated, yet accessible choreography inspired by play. Between each chapter of the story, the audience are treated to a sensory experience that compliments the action on stage. For example, gentle wafting of fans for air, light misting of water, and gentle bubbles.
The audience is seated close to the action with rich lighting that gently transforms the atmosphere, compliments the environment of the stage setting. In this way we can include the children in the action and world of the performance. Before and after the performance, the children can interact with a sensory installation that is inspired by the elements of the show and that supports their preparation for the show and transition from their previous environment or activity.
Development of Flying Hearts was generously supported by CIBC's Children's Foundation. Additional support provided by Spin Masters.

Flying Hearts receives its international premier at the WeeFestival of Theatre and Culture for Early years, May 2018, www.weefestival.ca