For our 41st season, we're excited to head back out on the road into schools and theatres across the City and beyond with a feast of theatre and participatory programs for our youngest audiences. Then, with the arrival of Spring the 2018 WeeFestival with blooms and blossoms of beautiful theatre for the very young.
Old Man and the River

A favourite among children, parents, and educators, Old Man and the River returns for the 4th season with performances in Toronto, St. Catherine's, and Saskatoon. If your family or child's school have not yet witnessed the magic of this story told through artful puppetry, this is your chance.
For children 3 -6 years
November/December 2017
The production has received unanimous praise from children, parents, grandparents, and teachers for its artistry and its story of newfound friendship. Old Man and the River is the perfect introduction to theatre for the very young and their grownups . This show features interactive pre-show and post-show audience engagement created especially for this age group.
A grumpy old man lives in his little house in the woods by the river. Every day is the same and he likes it this way, until one day, a magical creature leaps into his world and everything changes! This beautifully designed puppetry work performed without words to an enchanting musical score reveals a world where rivers sing, trees laugh, and curious dragonflies come to visit. With its themes of friendship, communication, play, adjusting to change, Old Man and the River is perfect for the youngest theatregoer.
RP (Relaxed Performance) | Autism Friendly: The gentle, welcoming atmosphere,  an interactive pre-show and post-show audience engagement as well as an on-line Social Story makes Old Man and the River suitable for children of all needs and abilities.
Created by Lynda Hill and Thomas Morgan Jones
Concept, Dramaturgy and Direction by Lynda Hill
Inspired by the story by Thomas Morgan Jones
Original Production Design by Kelly Wolf
Original Music by Nicky Phillips
Original Lighting Design by Jennifer Lennon
Puppetry by Mike Petersen and Eric Woolfe
Performed by Andrew Young, Alexandra Montagnese, Ingrid Hansen, and Mike Petersen
---
Flying Hearts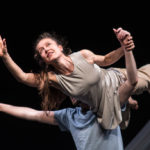 After a season of development and recent test-performances for children and young people, we're so excited to bring the gorgeous Flying Hearts to schools across Toronto serving children with Developmental Disabilities and Autism Spectrum Disorder. This multi-sensory dance/theatre creation performed to live music is conceived for young people who all too often, are excluded from arts experiences.
For young people of all ages and abilities
January/February 2018
Created by Michelle Silagy and Lynda Hill
Direction and Dramaturgy by Lynda Hill
Choreography by Michelle Silagy
Original Music Composed and Performed by Cathy Nosaty
Set Design by Jung Hye Kim
Costume Design by Jennifer Dallas
Lighting Design by Jennifer Lennon
Performed by Jessica Runge and Andrew Hartley with Emma Zabloski
---
Lost & Found

This unique puppetry and storytelling experience offers morning workshops with students and an afternoon performance – exclusively for the youngest students! Lost and Found was developed and tested through Theatre Direct's residencies at Fraser Mustard Early Learning Academy and Crescent Town PS and in the 17-18 season will be offered to schools through Prologue to the Performing Arts.
For your school's Kindergarten Division
Written and Designed by Andrew G. Young, Ginette Mohr, and Ingrid Hansen,
with additional contributions by Elliott Loran.Lost and Found was created through the support of Theatre Direct
Backdrop designed and built by Andy Miller.
---
2018 WeeFestival

Last but not least, the ​2018 WeeFestival of Theatre and Culture for Early Years returns for its ​3rd edition with an expanded programme over 10 days from May 11-21. ​Our pioneering festival features unforgettable theatre and performance from Canada and around the world for children 0-5 and their grown-ups. Mark your calendars now and standby for the Fall announcement of our full line-up and exciting partnerships.
Public performances May 12, 13, 19 & 20!
Weekday performances for daycares, preschools, and kindergartens May 14 -18
​Educators and Parent Representatives interested in having their students participate should email​ education@theatredirect.on.ca.
---
Theatre Direct continues to offer the Firefly Project for schools as well as its community classes and camps.
We have more in store for youth audiences too, so stay tuned for further announcements!